I do love a good western - and we've already had two fine entries into the genre this year, with Jon Favreau's Cowboys & Aliens yet to come. With that in mind, I thought I'd share a personal rundown of my favourite western movies since the start of the century. Sadly, Wild Wild West was just a little too early to make the cut...
10. Once Upon A Time In Mexico
Yes, it's a mess - but a gleeful mess! Never mind the stellar cast (Dafoe, Depp, Hayek, Trejo, Banderas, Iglesias, Rourke, Mendes and Marin) - this is just a huge bowl of fun.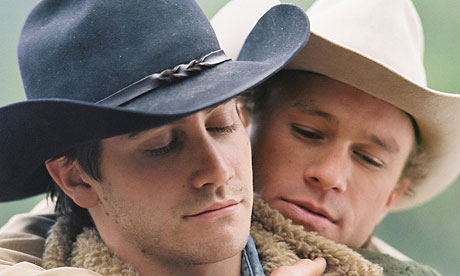 9. Brokeback Mountain
Unfairly labelled as 'that gay cowboy movie', this revisionist western proves that Willie Nelson was right: cowboys are secretly frequently fond of each other.
8. True Grit
One of two 2011-ers (in the UK at least) on the list, I've already reviewed it here. Suffice to say that this is a suitably Coen-ish re-imagining of a classic western tale.
7. Appaloosa
Reuniting Ed Harris with Viggo Mortenson post-A History of Violence, this is an underappreciated minor classic of recent years.
6. The Propostion
And now to the Aussie outback. Startling and impressive, with a tight script from Nick Cave, a lovely score and some fine perfomances, not least from the usually hit-and-miss Ray Winstone.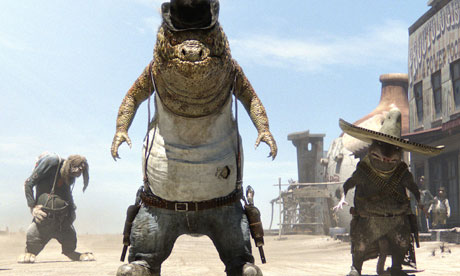 5. Rango
Reviewed in full here, this is pehaps the most unusual entry on the list - a hallucinogenic animated Western featuring rodents and reptiles? OK...
4. Kill Bill vol. II
Is this really a western? I reckon so, and it's a good one. Tarantino is expected to release a 'proper' western (though he calls it a 'southern'), Django Unchained, in the near future. We waited with baited breath.
3. The Assassination of Jesse James by the Coward Robert Ford
Didn't receive universal critical acclaim, on release (nor commercial success) but I loved it. Great performances from both Brad Pitt and the underrated Casey Affleck.
2. No Country for Old Men
No, it's not number one - but nearly is. Thoroughly deserving of its critical and commercial success, only slightly marred for me by the inconclusive ending
1. The Three Burials of Melquiades Estrada
One of those films that you see without expectations which takes you completely by surprise. And Tommy Lee Jones - who Lord knows has done his fair share of shit - is fabulous behind and in front of the camera.
So, no Open Range, no There Will Be Blood - did I mention that comments are welcome?
Disclaimer: I haven't seen any of the following, hence their absence: The Good, The Bad, The Weird; Sukiyaki Western: Django; Serenity (sorry!); Blueberry; Tears of the Black Tiger and Meek's Cutoff.